I love clams, I love them steamed, fried, with pasta. I just love them. These are among the best that I have had fried. If you haven't had whole belly clams (and I hadn't) then you are missing out. Don't be put off by the look of them, they are meaty and DELICIOUS. Served with the homemade sauce they set the tone for the rest of the meal. I would go back for these alone.
The fish tacos were the same, delicious and full of flavor. These are another must try item although (very minor criticism) they could have just a little more cheese to fill them out a little. But don't be fooled, these are good tacos and another item I will be thinking about this week as my stomach rumbles away.
Then the lobster roll… (The clue is in the name). It is a roll with lobster in it. Nothing else. No filler. Just delicious chunks of fresh lobster and a little mayo. It's perfect, there is nothing to detract from the flavor of the lobster, no attempts to mask it. If you like lobster then this is the place to go get a lobster roll.
All things told, I can't remember going to another place that had me so excited about going back there again so soon. No, it's not fine dining, and they are still ironing out a few minor kinks. But the service and food really leave an impression. It's exactly what the beach area needs and I am sure they will be a great success. I certainly hope so…
Filed Under: Hernando Beach, Restaurants, Things to do.
Spring Hill Now.com Blog Post - By Keeley
SpringHillNow.com rates Hernando Beach Tropical Grille a 5 out of 5 for overall experience.
Posted in: Local Eats, Local Food Reviews, SHN, Spotlights, Sun n' Fun, The Salt Life
Cuisine and Suggestions: Hernando Beach Tropical Grille features a diverse menu that changes with the tide. Literally, the chef changes the menu regularly based on what he can get fresh! It includes seafood, steaks, burgers, sandwiches, and more. This is where you want to be for dinner by sunset and it's a completely casual place.
Expect to spend: A lot less than you would think. The prices are more than fair especially considering the view and vibe. Dinner for two will run you just $20-$40 including a beer or two.
Peaks: Food quality and the fact that you're dining in a tiki hut with a view of the water, massive beach homes, and beautiful boats. I love the clam shack vibe of this place and boaters can pull right up to the restaurant to stop in for a meal or have their catch cooked up (chef's time permitting) while they wait. Cool right?!?
Pits: No draft beer. There's a lot to be said about enjoying a frosty, cold draft while looking out over the water, but they do offer a pretty big beer selection in bottles and cans as well as wine so I can't complain too much!
If I told you I knew of a secret treasure out on Hernando Beach and I was willing to share its location with you what would you say? "Yes Please!" Well here it is. 4139 Shoal Line Boulevard. Plug that address into a GPS and keep your eye out for the big, beige building that is the Hernando Beach Marina because this restaurant is hidden behind the Marina's fence. Hernando Beach Tropical Grille opened on July 4th (2013) and I'm lucky enough to know one of the chef's, Chris Morra, who let me in on this hidden gem when it opened up, but I'm not exaggerating when I say that it pains me to let others in on it. I'd love to keep it all to myself so I won't have to battle a crowd when it gets popular, but considering the alternative (people not knowing about it which would eventually lead to it closing down) pains me even more and the place is WELL worth a wait for a table…or even a samurai fight for one.
Lobster Roll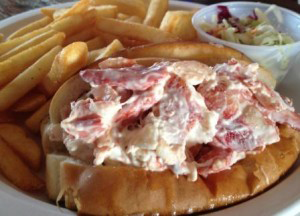 If your timing is right, a magnificent sunset will be the backdrop for your experience but eating at the Tropical Grille any time of day offers a Margaritaville ambiance that is simply enjoyable. We ventured there on a recent Friday evening in search of something different to do. Approaching the ginormous tiki-hut that is Hernando Beach Tropical Grille, I immediately knew it wouldn't disappoint. The breeze was filled with the aroma of food cooking, the sky was painted in beautiful shades of reddish-orange, and live music mixed with jovial conversation welcomed us newbies. Less than a dozen large tables are situated on a deck that extends out toward the water, beckoning for those who enjoy a little sunshine and fresh air with their meal. It was raining when we went (which made the experience all the more relaxing as the tiki-hut is so massive that we didn't feel a drop) so we took a seat at one of the wooden tables under the shelter, opposite the long bar, which is equipped with a big screen TV and juke box. A well-known local blues musician jamming to the left and a view of the water to the right made the end of the week so much better. A large dry-erase board displayed the menu for the day with options like rib-eye steak, fish tacos, haddock, and blackened gator, ranging in price from $2.95 to $10.95, with the exception of the $14.95 lobster roll (which I had to try!).
Jamaican Jerk Chicken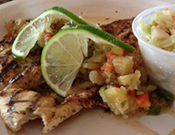 We started out with mozzarella sticks that came covered in grated cheese and served with marinara sauce, as well as coconut shrimp served with its own delicious sauce consisting of stone ground mustard, horseradish, and orange marmalade. They were both yummy but the kicker was the Whole belly Ipswich Clams which are flown in fresh (as is a lot of the other seafood). Those tasty little morsels are a MUST try and did a really good job of getting our taste buds excited about the main course: Jamaican Jerk Chicken and that Lobster Roll. The chicken was perfectly grilled and topped with a fresh fruit salsa that added a spicy-sweet kick. Now, I was fully prepared for a seafood mixture consisting of a little bit of lobster meat and a whole lot of other stuff when I placed my dinner order. What I was not prepared for was the nothing-but-lobster-deliciousness that I actually got! It was a soft, buttery slice of toasted bread heaping with massive chunks of fresh Maine lobster meat. I will eat this again. And again. And again. Do you get the point? Both entrees were accompanied by coleslaw and a generous helping of steak fries. The food was top-notch…and everything, including the sauces, is prepared fresh to order so if you're craving something special you can just ask your server and they'll make it for you as long as they have the ingredients. The owner, Mark Peloquin, is super friendly and laid back with a strong New England accent. He plans to have live music as often as possible on the weekends and the NFL package for football season. Once I forgave him for being a Patriots fan (just kidding I don't watch football…it's a sin I know) he told me a bit about his past 45 years of cooking experience which includes owning eight restaurants most of which were in Massachusetts on the North Shore. Owning a little clam shack on the water has always been a dream of his…and now he's living it! I REALLY hope this place thrives and encourage you to go give it a try because it truly is a wonderful addition to Hernando County's restaurant options.
P.S. When you order you have to tell them you want the Lawbsta Roll or they won't understand what you're saying.
10 Comments posted
Ali Posted August 1, at 1:18 PM
We were at the Tiki Bar and some guy who pulled up in his trailer and served low quality food that was just terrible. We decided to give it another shot after hearing it was under new ownership and we were very impressed! The food was fantastic, the service was exceptional and the atmosphere is great! The place has completely turned around since it's under new management. They will do great there. Good Luck!!!
Keeley Posted August 1, at 1:23 PM
Thanks for the input Ali! It's completely new ownership now and I hope everyone will give them a try because it's just as good as you said! =)
Annette Doying Posted August 1, at 1:24 PM
I agree with everything you said here! I have been telling all of my friends about the place…
Jacqueline Dry Posted August 1, at 5:15 PM
Anyway I could see a menu? we might try you guys out tonite…
j.C. Posted August 3, at 10:17 AM
Picked up some grouper sandwiches from here last night to bring home. Without a doubt, the best we've had! We are HB locals will definitely be back!
Chris Morra Posted August 3, at 11:30 AM
Our menu changes often, but we have a little something to offer to everyone.
Mary McCarthy Posted August 3, at 11:50 AM
Looking forward to trying this place next week for date night with hubby. Hoping for a beautiful sunset to compliment a wonderful evening!
Kathy McClymont Posted November 20, at 4:25 PM
Do you take reservations? If not, what is the typical wait time for a Friday or Saturday night?
Keeley Posted November 20, at 4:36 PM
You would need to contact the restaurant directly Kathy. The contact information should be at the bottom of the review.
Peggy Posted November 22, at 6:01 AM
We are from New England so we LOVE the Tropical Grille. Have gone back many times since our initial visit. Great food, service and atmosphere.
Hernando Beach Tropical Grille
4139 Shoal Line Blvd., Hernando Beach, FL 34607
352-556-2039